High Jump Camps in Minnesota
(Schedule and Registration)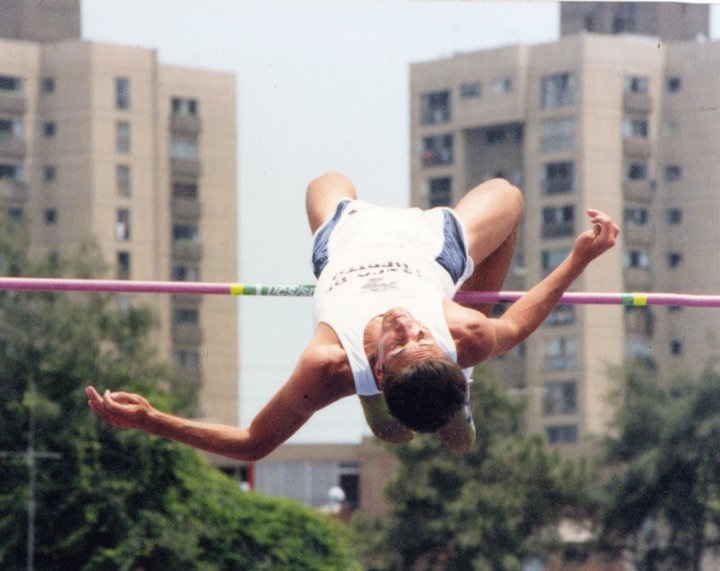 For a 16th consecutive year, Kangaroo TC will host High Jump Camps (commuter) in New Prague, Minnesota. The Kangaroo TC "learn by doing" high jump camps are specialty camps. Sessions will be videotaped and analyzed by coach Munoz, videos will be posted on the website not only for the athlete to see him/her self later, but for college exposure. More than 200 colleges and universities look at this website for educational purposes and recruiting. Sessions are limited to 5-6 athletes per group for maximum attention with a minimum of 3 athletes per group. With 3 athletes or less there will be a time adjustment in the camp or the camp could be cancelled and athletes will be given a full refund (only camp fee). See what other athletes have to say about their
Kangaroo Track Club experience
, and do not forget to visit our 
before and after gallery
.
NOTE: In order to emphasize safety and social distancing due to COVID - 19 we are limiting the camps to 4 athletes and the time of the camps will be adjusted to 2.5 hours. The HJ pit will be sanitized constantly in between jumpers. These new rules will be carried on through the remainder of 2020.
Camp/Clinic Instructor: Kangaroo Track Club coach Hugo Munoz, a two-time Olympian. Coach Munoz was a member of the Peruvian National team in the high jump for the 1996 and 2000 Olympic Games, and jumped 7'6 1/2″ (2.30mts) in his prime (1995). As of today, he holds the U23 Peruvian National record in the high jump. He is also the former South American high jump champion and still holds the South American high jump record U23. Coach Munoz has coached athletes at every level, from youth to Olympians. If you have any questions, please e-mail us, or call us at: (952)292-8226.
Minnesota High Jump Camp Schedule 2020
Note: For long and triple jump camps, please click 
here
.
Location (Jumps Lab):
3071 W. 260th Street. New Prague, MN 56071
August 2020 - Summer High Jump Camps
3 days jump camp (4 sessions) – 3 jumping sessions and 1 video analysis session (cost: $350).
Camp #1A: Friday July 31st, from 2pm - 4pm. Sat 1st and Sun 2nd from 10:30am-12pm – FULL

1 day jump camps – 2.5 hours (cost: $150).
Camp #2A: Saturday 1st, from 8am to 10:30am – FULL
Camp #2B: Saturday 1st, from 1:30pm to 4pm – FULL
Camp #2C: Saturday 1st, from 4pm to 6:30pm – FULL
Camp #3A: Sunday 2nd, from 8am to 10:30am – FULL
Camp #3B: Sunday 2nd, from 1:30pm to 4pm – FULL


Camp Information and Registration
Athletes only: What to bring for the "learn by doing" jumping day? (MN and TX camps) Notebook, pen, water, spikes (high jump spikes if you have them). Please do not bring cameras or tape recorders.
Cost:
1 day camp $150 (per session / per group). – Available in TX and MN
Week camp (3 days) $ 350 – Available only during the summer
How to register for the Kangaroo TC High Jump Camps?
Step 1: Please pay online (to lock your spot in the camp) and PLEASE send us an e-mail at kangarooathletics@gmail.com  letting us know that you have registered, along with the name of the camper, date and time of your choice (Without the email I do not know where to apply the $150 and you will NOT have a spot). NOTE: Due to the limited space of the program, after receipt of your payment there will be no refunds or exchanges (under any circumstances) as you will be filling a spot (no exceptions).

Step 2:  Download camp registration form / waiver and print.
Step 3: Complete the Registration Form, and e-mail it to: kangarooathletics@gmail.com
Hotel Information for the MN camps: All Kangaroo TC camps are commuter camps (this means that room and board are not part of the camp). We do not endorse any hotel, this is just a courtesy list.
Candlewood Suites Lakeville I-35
21060 Keswick Loop, Lakeville, MN 55044
(612) 808-5580

Holiday Inn Hotel & Suites Minneapolis - Lakeville
20800 Kenrick Ave, Lakeville, MN 55044
(952) 469-1134‎

For 
high jump camps
, 
long jump camps and triple jump camps
, 
video analysis
 and 
high jump festival
 please go to the following links or contact us by email kangarooathletics@gmail[dot]com or call us at (952)292-8226